Invisalign: A Discreet
Alternative to Braces
If you want a straighter, more symmetrical smile but are hesitant to commit to traditional braces, you may be a good candidate for Invisalign®. This innovative system is a discreet and more comfortable alternative to metal wires and brackets. At our Mesa, AZ, offices Drs. Martin Farnsworth and Derek Farnsworth can design an Invisalign treatment plan that addresses your unique concerns.
What Is Invisalign?
Invisalign treatment features a series of clear plastic aligners that gradually guide your teeth into their proper position. Every few weeks, patients graduate from one set of aligner trays to the next. Invisalign can address a variety of issues including crowding, an underbite, an overbite, and gaps in your smile. If you are unsure whether you are eligible for Invisalign treatment, we provide a free consultation to assess the health and structure of your smile. While the timeline varies from patient to patient, Invisalign treatment usually lasts about 12 months for adults.
At Las Sendas Dental Health, we offer free Invisalign consultations.
The Benefits of Clear Aligners
In a Harris poll study compiled by Invisalign, 24 percent of those surveyed cited "embarrassment of wearing traditional wire and bracket braces" as their primary reason for not pursuing orthodontic treatment. Invisalign aligners are smooth and clear, and they are virtually invisible when worn. In addition to aesthetics, these trays provide several noteworthy benefits.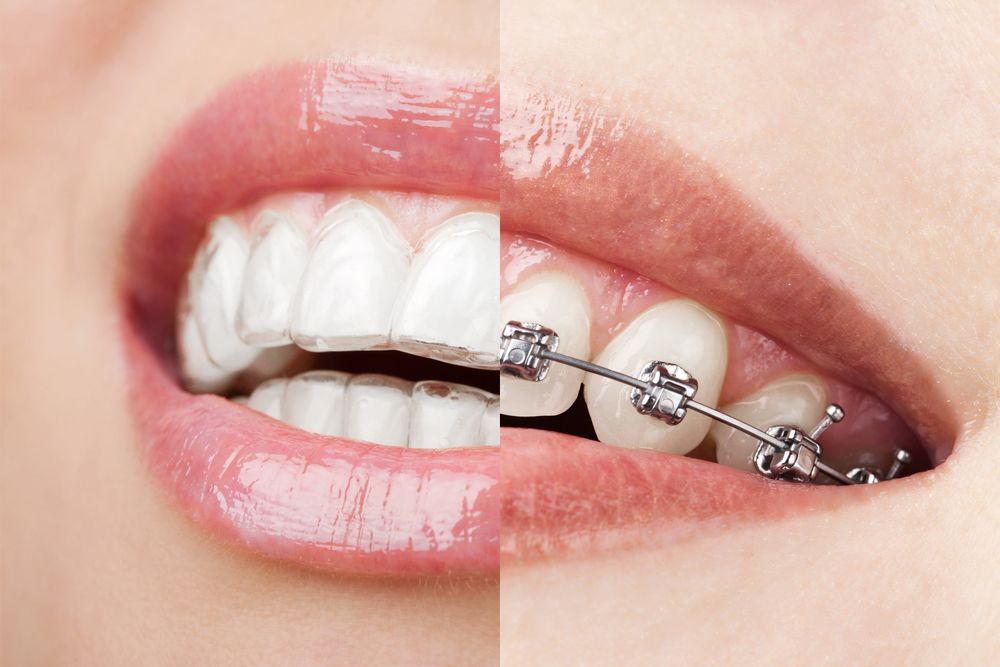 Comfort
Braces can irritate your cheeks, gums, and tongue. However, Invisalign aligners are composed of a flexible plastic material called SmartTrack®. The aligner trays are smooth and great for patients who are very active. You will never have to worry about broken brackets or metal edges causing injury or damage.
Oral Hygiene
While traditional braces make it difficult to reach certain areas with a toothbrush or floss, Invisalign aligners are removable. Simply remove your aligners before brushing or flossing your teeth. Proper hygiene can reduce your risk of cavities and gum disease.
No Dietary Restrictions
Traditional braces limit your ability to eat foods with seeds, foods that are particularly sticky, or foods that are very crunchy. As aligners can be removed for eating, you can enjoy all of your favorite foods during treatment.
The Treatment Process
During your initial consultation, our doctors can assess your oral health, identify functional concerns in your smile, and discuss your goals for treatment. If we decide that Invisalign is the best solution for you, we can take a series of intraoral photos as well as create a set of digital impressions. These scans will be sent to the Invisalign lab, where a mockup of your case can be created. This mockup includes:
Before and after recreations of your smile
An estimated treatment timeline
Once you preview your mockup, you can decide whether you want to proceed. Over the course of your treatment, you will wear a new set of custom aligners every two weeks. These must be worn at least 20 to 22 hours each day. We ask that you visit our office every six weeks, so we can monitor your progress.
Why Choose Us for Invisalign
At Las Sendas Dental Health, we offer free Invisalign consultations. You will not have to pay anything until you decide to commit to Invisalign treatment. We also have two convenient locations, emergency dental services, and flexible financing options to help you receive the treatment you want and deserve without sacrificing your goals.
Learn More Today
Invisalign can address several forms of misalignment without impacting your daily routine. Though Invisalign treatment is increasingly popular, it is not for everyone. The only way to determine whether you are a good candidate for Invisalign is to schedule a free consultation with one of our doctors at Las Sendas Dental Health. Call our office at (480) 283-5854 or contact us online for more information.